Description
AC 600Mbps dual-band 2.4GHz+5.8GHz WiFi5 wireless receiver
Wi-Fi8.CN provides WiFi5 wireless adapter products, AC 600Mbps dual-band 2.4GHz+5.8GHz WiFi5 wireless receiver.
WD-4505AC AC 600Mbps dual-band 2.4G+5G wireless adapter, its wireless wifi receiver main chip is RTL8811, WD-4505AC dual-band wireless USB network card is suitable for wireless connection of desktop PCs and other devices, which can provide convenient and fast wireless Internet access.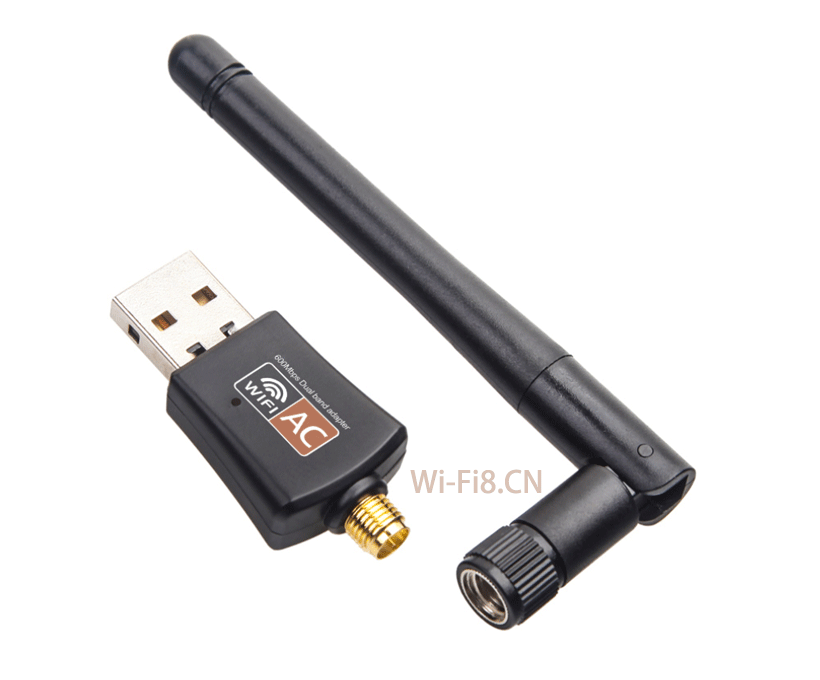 The NIC supports auto-detection and is able to adjust the rate automatically.
Complies with IEEE 802.11a, IEEE 802.11b, IEEE 802.11g, IEEE 802.11n, IEEE 802.1x, IEEE 802.11e, IEEE 802.11i, IEEE 802.11ac standards.
Wireless transmission rate: up to 150Mbps in the 2.4GHz band; up to 433Mbps in the 5.8GHz band.
Support WPA, WPA2 advanced security mechanism, support TKIP, AES, WEP encryption, can provide security for wireless network connections.
WD-4505AC Product Features
Model: WD-4505AC
Wi-Fi standard: WiFi5 (fifth generation wireless WiFi transmission technology)
Color: Black
Interface: USB2.0
Chipset: RTL8811
Certifications: European Testing (CE), RoHS Directive
Antenna: SMA 2dBi dual-band antenna (external 2dBi dual-band antenna)
Wireless transmission rate: 600Mbps
Dual-band frequency: 2.4GHz 150mbps, 5.8GHz 433mbps
Frequency range: 2.4~2.4835GHz, 5.150-5.250GHz, 5.725~5.850GHz
Two methods of operation are available: infrastructure and ad-hoc
Support 64/128-bit WEP, compliant with 128-bit WPA standard (TKIP/AES), support for MIC, IV extension, shared key authentication, IEEE 802.1X
Worry about the system:
Support Windows XP/Vista/Win7/Win8/Win8.1/Win10/Mac OS
Compatibility: Seamless compatibility with 802.11b/g/n/ac devices.
Chipset

realtek rtl8811

Interface

USB2.0 high-speed connector

Wireless speed

11N: Up to 150Mbps

AC: Up to 433Mbps

Frequency range

2.4 GHz and 5.8 GHz

Transmit power wirelessly

20dbm(max eirp)

Modulation techniques

ofdm / cck /16-qam/64-qam

Working mode

ad-hoc / infrastructure

Wireless network security

64/128-bit WEP, WPA/WPA2, WPA-PSK/WPA2-PSK (TKIP/AES)

Temperature range

Operating temperature: -20°C to 70°C

Storage temperature: -40 °C to 90 °C

humidity

Operation: 5% to 95% (non-condensing)

Storage: 90% max (non-condensing)

Supported operating systems

windows xp / vista / win 7 / win 8 /win8.1 / win10 / mac os

Dimensions (HxWxD)

45x 20x 10 mm
USB Wifi Adapter 600Mbps 5GHz 2.4GHz USB Dual Band RTL8811AU Wifi Antenna Adapter for Windows Mac Desktop/Laptop/PC WD-4505AC.
The main differences between Wifi5 network card and Wi.Fi4 network card are:
The wifi5 network card is a higher level wireless network communication technology than the wifi4 network card, which supports higher broadband speed, and the signal is more stable, and the power consumption is small.
And the protocol used by the two is different, the wifi5 network card can run 500 megabytes of broadband, and the wifi4 network card can run up to about 150 megabytes.
USB wireless adapters for computers available Wi-Fi8.CN website are available in countries around the world. USB wifi adapters are available in India, the United States, Cambodia, Japan, South Korea, Italy, and more.
The best wireless WiFi adapter brand in 2023, product design is fine, precision technology production process.