Description
WD-4503AC dual-band wireless USB network card is suitable for wireless connection of desktop PCs and other devices,and can provide convenient and fast wireless Internet access.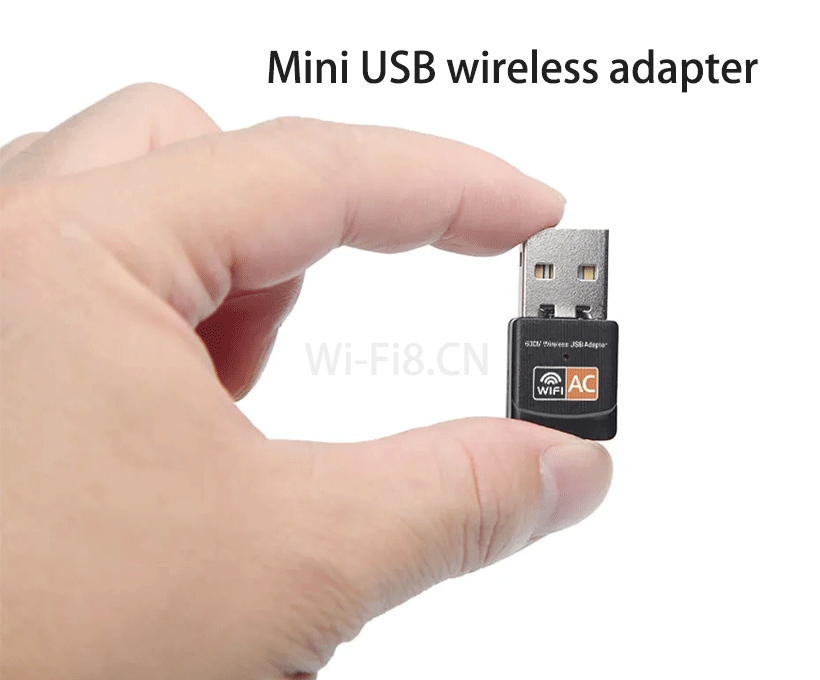 Mini usb wifi adapter
The NIC supports auto-detection and can automatically adjust the rate.
Ethernet PC wireless Internet adapter WD-4503AC for desktop computers,chipset Reatek 8811,IEEE802.11 a/b/g/n standard,interface type is USB2.0, support computer system Windows XP/Vista/WIN 7/WIN 8 and so on.
Ethernet PC wireless Internet dual-band adapters provide powerful wireless technology for your desktop or laptop computer.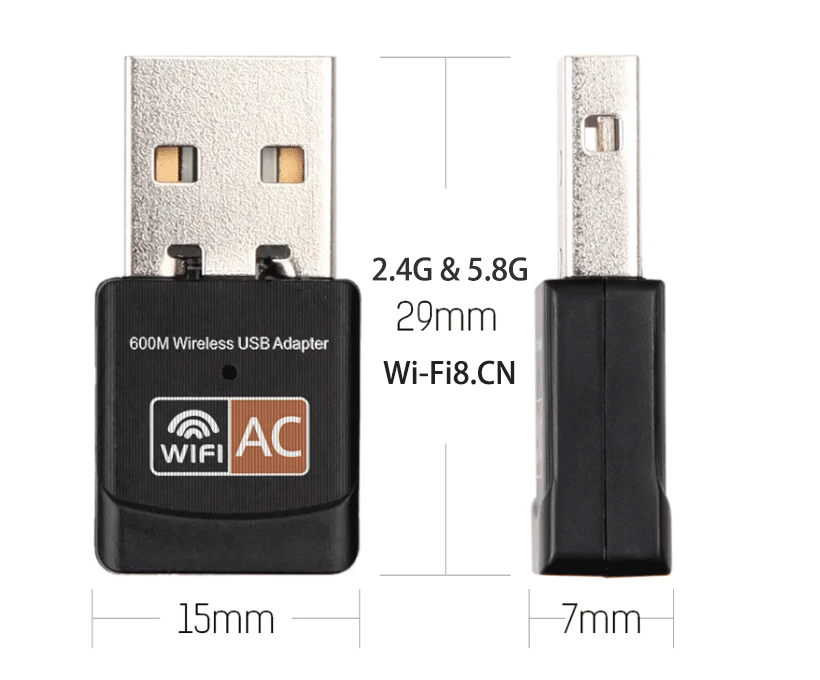 Simply plug the adapter into an available USB port and connect to a wireless network to access a secure, high-speed Internet connection of 2.4GHz (150Mbps) or 5GHz (up to 433Mbps). And with integrated dual-band technology.
WD-4503AC600 mini dual-band 802.11 AC USB WiFi adapter follows IEEE 802.11a, IEEE 802.11b, IEEE 802.11g, IEEE 802.11n, IEEE 802.1x, IEEE 802.11e, IEEE 802.11i, IEEE 802.11ac standards; Wireless transmission rate: 2.4G band up to 50Mbps; The 5G band can reach 433Mbps.
WD-4503AC600 Mini Dual Band 802.11AC USB WiFi Adapter
Support WPA, WPA2 mechanism, support TKIP, AES, WEP encryption, can provide protection for wireless network connection.
Model: WD-4503AC
Product name: WD-4503AC 600Mbps desktop computer wireless adapter
Wireless transmission rate: 600Mbps
Color: Black
Interface: USB2.0
Antenna: Built-in antenna
Chipset: RTL8811
Standard: IEEE802.11a/b/g/n
Place of origin: Guangdong, China
Frequency range: 2.4~2.4835GHz, 5.150-5.250GHz, 5.725~5.850GHz
WD-4503AC 600Mbps Desktop Wireless Adapter
Dual-band frequency: 2.4GHz 150Mbps, 5.8GHz 433Mbps.
Two methods of operation are available: infrastructure and ad-hoc.
Support 64/128-bit WEP, compliant with 128-bit WPA standard (TKIP/AES), support for MIC, IV extension, shared key authentication, IEEE 802.1X.
Support Windows XP/Vista/Win7/Win8/Win8.1/Win10/Mac OS.
Support 802.11b/g/n/ac devices are seamlessly compatible.
WD-4503AC 600Mbps Wireless Adapter Specifications
Chipset

realtek rtl8811

Interface type

USB2.0 high-speed connector

Wireless speed

11N: Up to 150Mbps

AC: Up to 433Mbps

Frequency range

2.4ghz and 5.8ghz

Transmit power wirelessly

20dbm(max eirp)

Modulation techniques

ofdm / cck /16-qam/64-qam

Working mode

ad-hoc / infrastructure

Wireless network security

64/128-bit WEP, WPA / wpa2,wpa-psk / wpa2-psk(tkip / aes)

Temperature range

Operating temperature: -20°C to 70°C

Storage temperature: -40 °C to 90 °C

humidity

Operation: 5% to 95% (non-condensing)

Storage: 90% max (non-condensing)

Supported operating systems

windows xp / vista / linux / win 7 / win 8 /win8.1 / win10 / mac os

Dimensions (HxWxD)

29x 15 x 7mm
WIN10 How to install a USB wireless adapter
WIN10 How do I install a USB wireless adapter?
How to install USB wireless card on my own win10 system?
How do I install a USB wireless adapter on my Windows 10 desktop computer?
Here's how to install it:
Operating device: Dell laptop
Operating system: Win10
Insert the USB wireless card into the USB port of the computer, the computer will automatically pop up the driver installation dialog box, click Run.

At this time, you can see that the wireless network card is installing the driver, and wait for the installation progress to complete.

If you insert the USB wireless network card, but the installation interface does not pop up, you can click "My Computer" on the desktop to enter.

In the interface that appears, you can see the drive letter with the wireless network card logo, double-click to open it.

In the interface that appears, double-click the installation EXE file to install.

After the driver installation is completed, you can see the wireless logo in the lower right corner of the computer. Click the wireless logo, select the desired network from the options that appear, and click "Connect".