Description
WD-4508AC 600Mbps Dual Band Driverless Wireless Adapter is suitable for Windows Vista/XP/2000/7/8/10, Linux, MAC OS computer operating system.
Product features
Product model: WD-4508AC
Interface type: USB2.0
Wireless standards: IEEE 802.11g, IEEE 802.11b, 802.11ac, IEEE 802.11n
Working frequency band: 2.4G &5.8G
Support protocol: 802.11ac
Color: Black
Product weight: 33g
Dimensions (HxWxD): 45x 20x 10 mm
Packing list: WD-4508AC wireless adapter + antenna + jam + blister
Product color: black
Product material: ABS material + USB head
Product chip: Realtek RTL8811
WiFi speed: 2.4GHz–150Mpbs, 5.8GHz–433Mpbs
Network mode (Frequency) :Dual Band 2.4GHz + 5.8GHz
Applicable systems (OS): Windows Vista/XP/2000/7/8/10, Linux, MAC OS
WD-4508AC Wireless WiFi Adapter Specifications
WD-4508AC Wireless WiFi Adapter Specifications

Main chip

    Realtek RTL8811

Interface

    USB 2.0

Protocols and standards

    IEEE802.11/b/g & 802.11n

Operating frequency band

    2.412GHz

antenna

    2dBi has a built-in omnidirectional antenna

Secure encryption

    WFA,WPA,WPA2,  WPS2.0,WAPI

Transmit power

    802.11a: 14—16dBm@ 54Mbps (OFDM)

    802.11b: 16—20dBm@ 11Mbps

    802.11g: 14—16dBm@ 54Mbps

    802.11n: 14—16dBm@ 150Mbps

     802.11ac:14-16dBm@ 433Mbps

Receive sensitivity

    802.11a: -66+/-1dBm

    802.11b: -80+/-1dBm

    802.11g: -73+/-1dBm

    802.11n: -70+/-1dBm(HT20);-64+/-1dBm(HT40)

    802.11n: -70+/-1dBm(HT20);-64+/-1dBm(HT40)

Operating voltage

  5.0VDC± 5%

power consumption

  Transmit and receive status: 220mA(max)

  TX state only: 220mA(max)

  RX state only: 180mA(max)
Introduction of 5G WiFi technology
WD-4508AC 600Mbps dual-band driverless wireless WiFi adapter operates in the frequency band of 2.4G & 5.8G.
5G Wi-Fi (802.11ac) refers to Wi-Fi operating in the 5Ghz radio wave band and using the 802.11ac protocol.
Higher wireless transmission speeds are the biggest feature of 5G Wi-Fi.
The industry believes that the entry-level speed of 5G Wi-Fi is 433Mbps, which is at least three times the Wi-Fi speed, and some high-performance 5G Wi-Fi can reach more than 1Gbps.
There is a misunderstanding here, not that Wi-Fi running in the 5Ghz band is 5G Wi-Fi, and the Wi-Fi protocol standards running in the 5Ghz band include 802.11a (first generation), 802.11n (fourth generation, running at both 2.4Ghz and 5Ghz dual bands) and 802.11ac (fifth generation), and only Wi-Fi using the 802.11ac protocol is truly 5G Wi-Fi.
The birth of 5G Wi-Fi is a good solution to the problems faced by WiFi, first of all, it runs in the high frequency band above 5GHz, broadband can be increased to 40MHz or even 80MHz or higher, the transmission speed is up to 1Gbps, and about 125MB of content can be transmitted per second.
5G Wi-Fi is short for fifth-generation Wi-Fi technology. Wi-Fi technology was born in 1997 and has developed into its fifth generation. When the first generation of Wi-Fi standards appeared, due to the limitations of process and cost, the operating frequency of the chip could only be fixed at 2.4GHz, and the maximum transmission rate was only 2Mbps.
The subsequent four WiFi versions of the standard such as 802.11a, 802.11b, 802.11g, and 802.11n are getting faster and faster, and we generally use the 802.11n standard.
ac 600mbps dual-band wireless wifi adapter in store
For example, the 802.11n launched in 2004 is 10 times faster than the previous 802.11g, 50 times faster than the earlier 802.11b, and covers a wider range.
WiFi chips have higher and higher transmission rates, but until 802.11n initially ran on the 2.4GHz band, so the speed still could not meet people's needs.
True 5G WiFi
Although the WiFi chip of the mobile phone has supported dual-band (2.4GHz and 5GHz) operation earlier, the protocol used is still the 802.11n standard, and the latest 802.11ac standard is not used, which is not 5G WiFi in the true sense, which can be simply regarded as running 802.11n WiFi in the 5GHz band, and the performance is discounted.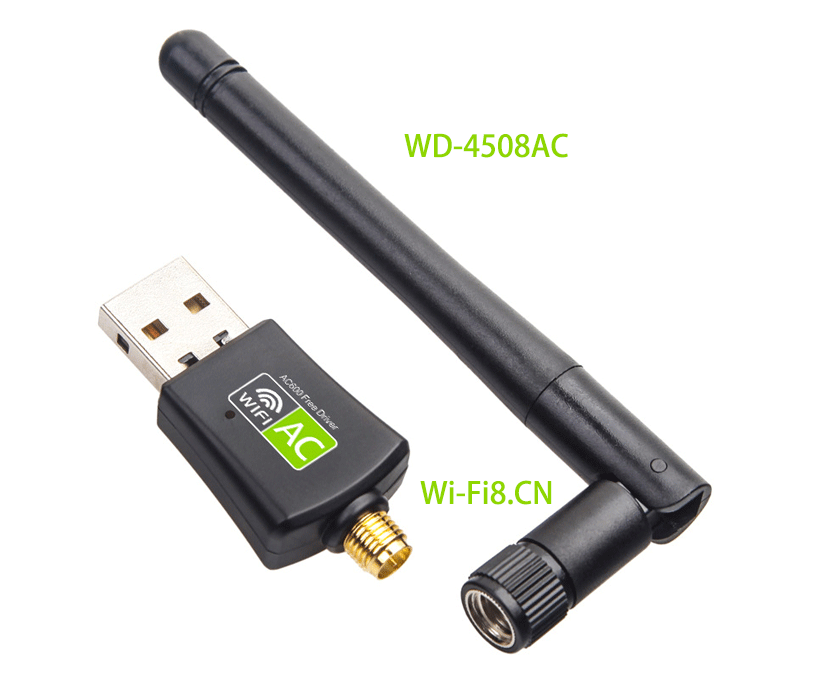 If we take the highway as a metaphor for the 5GHz WiFi band, then the 802.11n standard will be a Mercedes-Benz car, and the 802.11ac standard will be a higher level, which can be understood as a sports car.
The real 5G Wi-Fi is 802.11ac, which uses a chip operating at the frequency of 5GHz and can cover both the 5GHz and 2.4GHz frequency bands.
In addition to being faster, it also improves the problem of small wireless signal coverage, although 5GHz is more attenuated than 2.4GHz and it is difficult to pass through obstacles, but due to the greater coverage, considering that the signal will be refracted, the new standard will make it easier to receive the signal in all corners.