When traveling by car for the whole family, how is it most convenient for tablets and laptops to connect to the Internet?
Leading a team to participate in industry exhibitions, the on-site network port is limited, how can dozens of terminals access the Internet quickly and well?
The first thing that comes to mind is the mobile router CPE equipment that has appeared since the commercial use of 3G.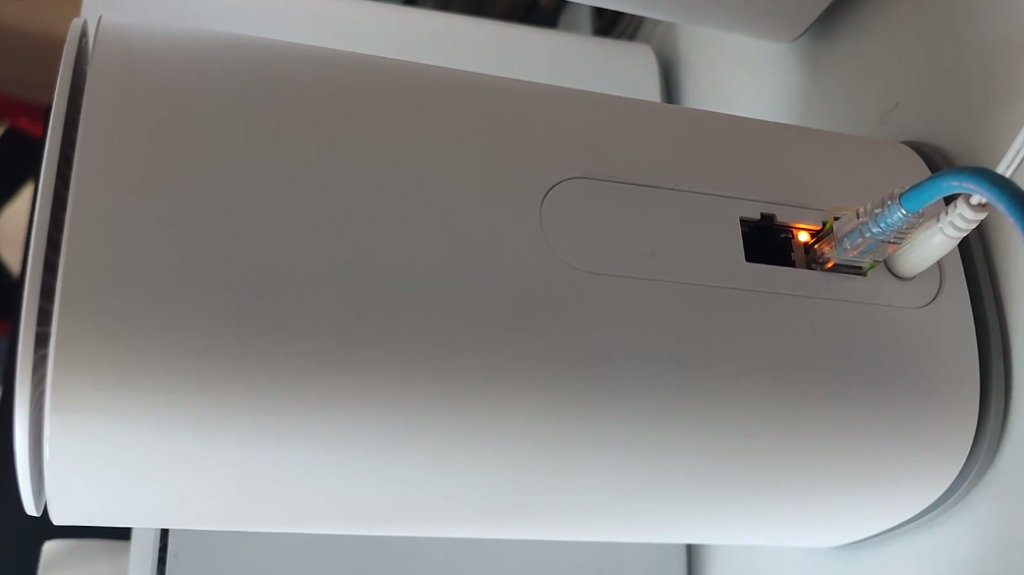 Now that it is the 5G era, it is natural to choose the best 5G CPE products.
Recently, ZTE will launch a new generation of ZTE 5G CPE 2 Pro equipment, providing a highly competitive solution for home users and small business offices.
The author also got this product for the first time, and after nearly a week of trial, the overall feeling is that the network access speed is fast, which is very suitable for mobile or unfamiliar scenarios in which multiple devices access the Internet.
5GCPE-Qualcomm SDX55 5G CPE Router product appearance
Coupled with the exquisite and stylish design of ZTE 5G CPE 2 Pro, it is also suitable to replace wired broadband at home, which is indeed an ideal solution for multi-device sharing 5G broadband.
When technology has an artistic touch
Since the commercial use of domestic 5G networks, many 5G CPE products have appeared on the market, most of which are large and heavy, and their appearance is also decent.
However, with the continuous advancement of components and terminal technology, 5G CPE products have also undergone great changes.
This ZTE 5G CPE 2 Pro, the size is 182*124*70mm, which can definitely be called "small" in products such as 5G CPE. Below is a photo of how this product looks.
Does it look like a warrior wearing a cloak? The entire fuselage has soft and smooth lines, and the "nebula ring" design on the top looks very flexible, with great artistic design taste and affinity, unlike ordinary technology products, monotonous and cold.
In addition, from different angles, the shell of ZTE 5G CPE 2 Pro will show unpredictable colors and halos, which is the first time that the carved nano-texture process commonly used in mobile phone shells has appeared in the field of network equipment.
BEST WiFi router – 5G CPE 2 Pro
These design languages have won the 2019 German iF Design Award and the 2020 China Design Red Star Award, representing the top level in the field of industrial design in China.
The 5G CPE 2 Pro interface is easy to learn and use
As a network device for ordinary consumers, the operation interface must be simple and easy to use, and ZTE 5G CPE 2 Pro does a good job.
The first time you access ZTE 5G CPE 2 Pro will ask you to modify the WiFi settings, as shown in the figure below.
This is followed by instructions for network access settings, according to which users can view the device's settings and network usage status.
Next you can see several features of ZTE 5G CPE 2 Pro. The role of "recommended location" is to help users test the network signal strength everywhere in the house, and give the best place to place the device.
"SMS" can be used to view the text messages received by the SIM card inserted into the body, which is a very useful feature that allows users not to miss any important information.
There are five setting options in "Advanced Settings", "Night Mode" is to set the body indicator, WiFi function to turn off at a specified time, "Routing", "Firewall" and "Upgrade" do not need to be said, what is really interesting is "Other".
Under the "Other" settings page, there are actually "slice settings" and "MEC collaboration", which are the characteristic functions of 5G networks, which are new technologies to ensure data transmission within a specified range, and are also a means to provide exclusive network guarantee for important applications.
However, to truly realize these two applications, the entire 5G network and user-side devices are needed, and ZTE 5G CPE 2 Pro complements the functions of user-side devices, allowing users to truly realize end-to-end slicing and MEC applications.
The performance of 5G CPE router equipment live network test is amazing
For a 5G CPE device, the most critical is of course 5G and WiFi components, which directly determine the user's experience.
ZTE 5G CPE 2 Pro's 5G module uses Qualcomm's second-generation 5G baseband chip SDX55, which supports all major frequency bands of 5G and 4G networks. As for the WiFi module, ZTE 5G CPE 2 Pro uses Qualcomm WiFi 6 network card chip QCA6391, which optimizes the throughput settings of each user for multi-user scenarios, and the peak rate can reach 1800Mbps, so that 4G mobile phones and tablets and laptops with only WiFi access can also enjoy the ultra-high network speed of 5G.
A directional antenna of 9 dBi covers longer distances and achieves ideal network speeds far from the edge of the base station.
The following are the results of the live network measurement. It can be seen that ZTE 5G CPE 2 Pro is indeed very powerful, with an indoor measured uplink rate of nearly 90M and a downlink rate of up to 819M. This speed is more than enough for HD live broadcasts and playing VR.
In order to have a more intuitive comparison, we tested the wi-fi rate in the home. It can be seen that the measured uplink rate of indoor Wi-Fi is about 62m, and the downlink rate is about 244m, which is far lower than the rate of 5g cpe.
During indoor testing, we connected 5 devices at the same time, and ZTE 5G CPE 2 Pro allowed up to 32 devices to be connected at the same time.
If there is a device that needs a more stable and reliable connection method than WiFi, then ZTE 5G CPE 2 Pro will be the best choice.
Because, ZTE 5G CPE 2 Pro is also equipped with dual gigabit network ports, which can access various wired devices.
It is worth mentioning that ZTE 5G CPE 2 Pro is not a simple 5G mobile router, it can also be used as a wired router. When users return to the occasion of having a fiber broadband interface, ZTE 5G CPE 2 Pro can be connected to the wired network and continue to provide all devices with Internet access.
For users who want uninterrupted access to the network, ZTE 5G CPE 2 Pro actually provides a wired and wireless network environment for mutual backup, isn't it very intimate?
Greatly expand 5G application scenarios
Since the emergence of CPE equipment in the 3G era, it is actually a very ideal way to surf the Internet if you do not consider the cost of traffic.
Car and boat travel, short-term rental, store shops, outdoor office, etc., CPE equipment can quickly set up a network environment, and can be disassembled and installed at any time, mobile use, very convenient.
For example, renting a house for short-term living due to work reasons, it is time-consuming and laborious to handle the wired network, and you can use 5G CPE as you go, and you can take away at any time when changing houses, which is convenient and flexible.
Cable broadband in the community is often limited by the agreement between the developer and the telecom operator, and with ZTE 5G CPE 2 Pro, you can freely choose the service package of several operators, and whoever has good network quality and preferential tariffs will choose.
In the 5G era, all walks of life are actively promoting digital transformation, and 5G CPE has a stage to show its talents.
For example, shopping malls and supermarkets need to install a lot of IoT equipment, bandwidth requirements are high but wired network layout is inconvenient, 5G CPE can take on the heavy responsibility.
The farm is located in the wild, it is difficult to deploy a wired network, and ZTE's 5G CPE 2 Pro can make all digital sensors and machinery connected to the cloud, and evolve to digital farms.
5G CPE can effectively promote the promotion and application of 5G, and the in-depth development of 5G to all walks of life has opened up new business opportunities for 5G CPE.
ZTE has been developing 5G CPE equipment for different application scenarios, and with its deep communication network industry background, the function, ease of operation and performance of ZTE's 5G CPE products have been well received by the market.
In contrast, ZTE 5G CPE 2 Pro is smaller in size, hardware configuration and performance are stronger, which is not only a weapon for ZTE to lead the full penetration of 5G applications into all walks of life, but also provides a more advantageous solution for multi-device sharing 5G networks.